VR Referrals Blog
Vacation Rental Referrals News.
Tips on Vacation Rental Marketing, Members News and more.
Join us Today and connect with other Vacation Rental Owners,
or simply add your Free Vacation Rental Listing to our directory.
Create Invoices on VR Referrals and send them to your clients

Printer-friendly version

E-mail this page

Update: Jan, 2014: This feature is no longer offered
You can now create invoices on VR Referrals and send them to your clients.
Once you create your invoice you can print it, save it as PDF or email it.
It's easy to create an invoice for your Vacation Rental. Simply add your guest information and rates. After saving your invoice you'll see icons to print, save as PDF or e-mail to your clients.
View an example of an invoice below (Please note that you can also copy/paste your logo)
We hope that you'll enjoy this new tool.
- VR Referrals Team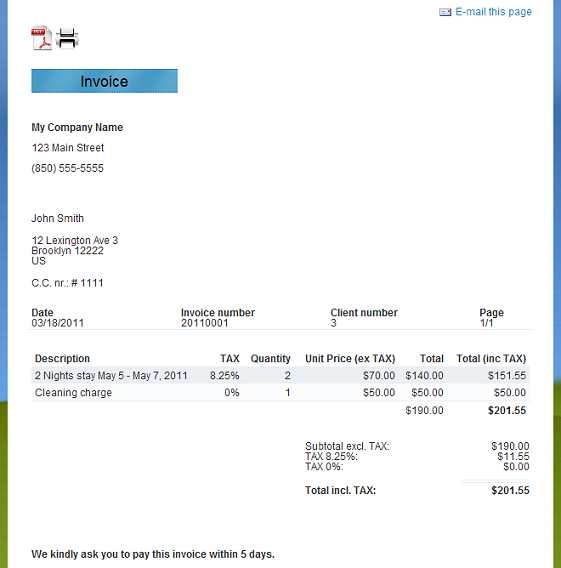 Share this


Paid Vacation Rental listings start at just $59 / year! & Free Vacation Rental Listings First 5 members of each region - add a completely FREE Vacation Rental Listing to our site! , Free Articles and Blogs Join us to add FREE Vacation Rental articles and Blogs & Referrals Send your extra booking requests to other Vacation Rental owners and make $. !
In addition to vacation rental listings, VR Referrals connects vacation rental owners together in one place.
Additional features are available. Vacation rental owners can create their own Blogs and / or add Articles on our site to further market their vacation rental properties online, free of charge. View Membership Types.