Newsletter - Travelers
Newsletter : Newsletter - Travelers
VR Referrals Newsletter for Travelers contains travel tips, articles, travel news and recently added / featured vacation rental properties.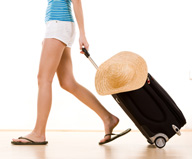 Make sure you pack the items that are going to keep you safe and healthy next time you travel.
(NewsUSA) - Vacations should be a time of rest, relaxation and adventure. For too many travelers, they're anything but. A double whammy of stress and anxiety on top of an already compromised immune system is a formula for disaster, sending many jet-setters home sick as dogs. Fortunately, a few essential items are all you need for a safe and healthy getaway. Be prepared for the inevitable with these five health and safety tips: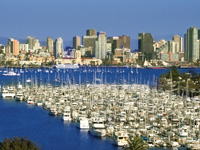 (NC)—The Southern California lifestyle is a draw in itself – and in San Diego, says Canadian travel writer Jane Stokes, you get:
• Year–round average temperature at 72 F or 20 C degrees
• 70 miles of beach and trendy beach villages
• Seashore, desert and mountain landscapes
• The world–renowned San Diego Zoo and the Zoo's Wild Animal Park
Families are tightening their budgets. For many, this means fewer activities outside of the home. With less dining out, movie outings, sports games or other extracurriculars, there's no better time for budget-conscious moms and dads to really connect and spend quality time with their kids throughout the year.
Flying has its drawback today. Security has become a necessary pain in the butt, but if you want to feel safe, you are thankful for it. What has gotten better though is the ability to search all airlines and to search all flights at one time. Booking a flight has become a simple process and to search flights and make a decision has become an informed process, no longer solely dependent on which airlines advertises the most.
The NYC tours are plentiful. Mentioning just a couple, you can tour central park in a couple tours. One takes you to movie locations and the other is a tour guided by a professional photographer. Tours that accentuate the diversity of New York City culture include the Bronx, Harlem, and Brooklyn Tours or the New York City Metropolitan Museum. You may just want to go on a bicycle tour across the Brooklyn Bridge and you can even rent a bike to follow the Hudson River Path for miles and then ride back through portions of the city. Renting your own bicycle allows for freedom to explore, which is the only way to see New York, in this authors opinion.
The New York area is one of the largest in the world. With approximately 8 million people being in New York City alone and with less than 900 thousand kilometers squared radius, it is the densest city in all of North America! After a long anticipated debut we finally made our way to the Big Apple, and we were so excited we could barely contain ourselves. Going there has been a childhood dream for us ever since we decided to be world travelers and see everything this globe has to offer!
Use technology to help lighten your holiday load.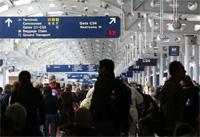 (NewsUSA) - The holidays can be stressful, and if travel is involved, it can add a new layer of angst to an already hectic time of the year.
If air travel is inevitable, there are ways to remove some of the chaos -; during the holidays or any time a trip is on the schedule: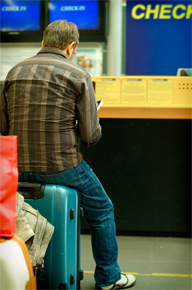 Travelers can avoid long check-in lines by shipping their luggage to their destinations.
(NewsUSA) - It's never been harder to pack for a flight. Airlines' three-ounce rule, which forbids any liquid or gel in a bottle over three ounces in size, means repackaging personal products or buying sample-sized items for your carry-on bag. At the same time, most airlines now charge for checked bags and enforce rigid restrictions on height and weight.
Some clever Americans, however, have started beating the system -; by shipping their luggage to their destination. In fact, Pak Mail, a packing and shipping company with locations throughout the U.S. and around the world, reports an increase in the number of suitcases, golf clubs, and scuba gear that customers ship to hotels and resorts.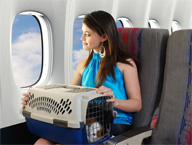 Planning ahead will make traveling with your pet easier.
(NewsUSA) - You look forward to your vacation, but leaving your furry friends behind is more than you can handle. Luckily, it's easier than ever to bring your pets along for the ride.
There are plenty of pet -friendly lodging establishments, restaurants, and a slew of gear and other pet products that make traveling with Fido and Fluffy more comfortable. Consider trying the following tips before packing your pets' travel bags: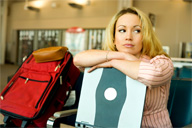 (NewsUSA) - Man-made and natural disruptions to air travel are all-too-often the norm. Not only can weather delay take-offs and landings, but new airline rules can also keep planes grounded.
For example, if a plane is sitting on the tarmac for more than three hours, it has to return to the gate. On the upside, there are ways to cope with the unexpected. Here are a few simple tips to prepare for delays before leaving home:


Paid Vacation Rental listings start at just $59 / year! & Free Vacation Rental Listings First 5 members of each region - add a completely FREE Vacation Rental Listing to our site! , Free Articles and Blogs Join us to add FREE Vacation Rental articles and Blogs & Referrals Send your extra booking requests to other Vacation Rental owners and make $. !
In addition to vacation rental listings, VR Referrals connects vacation rental owners together in one place.
Additional features are available. Vacation rental owners can create their own Blogs and / or add Articles on our site to further market their vacation rental properties online, free of charge. View Membership Types.