Tips to Prevent Winter Household Heating Fires

Printer-friendly version

E-mail this page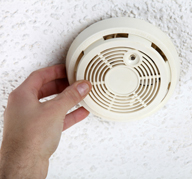 In the event of a winter heating fire, make sure your smoke alarms are working properly beforehand
(NewsUSA) - Don't let the quest to keep warm this winter turn into a fire-safety hazard. With wintery weather and chilly temperatures come increased risks within the home. Follow these precautions now so your heated home and family can secure warm feelings of safety while keeping winter chills out.
* Use heating equipment properly. In 2008, heating equipment was responsible for an estimated 66,100 reported U.S. home structure fires. These fires caused $1.1 billion in property damage. According to the U.S. Fire Administration, many of these fires were a result of improper use of heating equipment. Follow all safety instructions provided by the manufacturer.
* Avoid clutter around space heaters. What may at times may seem like a harmless heating device, space heaters can quickly become a mountain of potential risk as home clutter accumulates around and on top of them. Take time to make sure all clutter is clear of any heaters in the house. Keep heaters at least three feet away from paper, bedding, furniture and other potentially flammable household items.
* Use heating equipment that has the label of a recognized testing laboratory. If you don't recognize the testing laboratory, have a qualified technician check to see that the unit has been properly installed.
* Look for new safer heater models. Supplemental zone heaters, like those from Sunheat (www.sunheat.com), are ideal for homes that put safety first. Sunheat heaters have been tested and proven unable to start a fire while effectively using infrared heat to warm 800 to 1,000 square feet. They produce no harmful emissions and are safe around children and pets.
* Install gas-fueled heating devices with proper attention to ventilation. If unvented gas space heaters are used in bedrooms or bathrooms, make sure they are small and well-mounted. National Fire Prevention Association codes prohibit use of liquefied petroleum gas heaters with self-contained fuel supplies.
* Inspect solid-fueled heating sources. Have all wood and coal stoves, fireplaces, chimneys, chimney connectors and all other solid-fueled heating equipment inspected annually by a technician. Have them cleaned as often as a technician proposes.
* Test safety-alert devices. Test smoke detectors monthly and install and maintain a carbon monoxide alarm in a central location outside each sleeping area.

Share this


Paid Vacation Rental listings start at just $59 / year! & Free Vacation Rental Listings First 5 members of each region - add a completely FREE Vacation Rental Listing to our site! , Free Articles and Blogs Join us to add FREE Vacation Rental articles and Blogs & Referrals Send your extra booking requests to other Vacation Rental owners and make $. !
In addition to vacation rental listings, VR Referrals connects vacation rental owners together in one place.
Additional features are available. Vacation rental owners can create their own Blogs and / or add Articles on our site to further market their vacation rental properties online, free of charge. View Membership Types.