Eye-Catching Driveway Adds to Home's Allure

Printer-friendly version

E-mail this page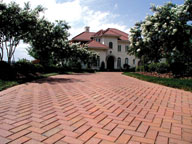 Eye-Catching Driveway Adds to Home's Allure
(NewsUSA) - Take a look at your driveway. Chances are, it could use some improvement.
Brick pavers are becoming popular among homeowners who want to improve their home's curb appeal by reworking their driveway, says Laura Schwind, a landscape architect for Pine Hall Brick, a paver manufacturer.
"Everywhere you go, you see oceans of concrete driveways, but a brick driveway sets your driveway apart from everyone else's with a richer, more distinctive look," Schwind says.
Depending on the condition of the driveway - and your skill as a do-it-yourselfer - you can either cover the driveway yourself with pavers or hire a reputable installer.
Some installations cover the entire driveway, walkway or patio, while others consist of borders of brick to replace deteriorating areas of concrete around expansion joints or to set off the entrance to a garage or home.
A new application called PaverScape Visualizing Software, available through Pine Hall Brick distributors, is making it easier for homeowners to see what the finished project would look like before the work begins.
Here's how it works: Take a digital picture of your driveway, then bring your camera and the cable used to connect it to a computer to any Pine Hall Brick distributor.
Using the PaverScape software, open your digital photo, define the areas that you want to pave, and the software will show you how your completed project will look with Pine Hall Brick pavers. You can choose from any one of 24 styles; each style can be laid in any one of six patterns.
For more information or to find the nearest Pine Hall Brick distributor, call 800-334-8689 or visit www.pinehallbrick.com.


Share this


Paid Vacation Rental listings start at just $59 / year! & Free Vacation Rental Listings First 5 members of each region - add a completely FREE Vacation Rental Listing to our site! , Free Articles and Blogs Join us to add FREE Vacation Rental articles and Blogs & Referrals Send your extra booking requests to other Vacation Rental owners and make $. !
In addition to vacation rental listings, VR Referrals connects vacation rental owners together in one place.
Additional features are available. Vacation rental owners can create their own Blogs and / or add Articles on our site to further market their vacation rental properties online, free of charge. View Membership Types.