Vacation in Pelling: A Complete Travel Guide

Printer-friendly version

E-mail this page
Pelling is located in the state of Sikkim and is widely regarded as one of the friendliest and the most beautiful places in Sikkim.
From the geographical point of view, this beautiful little town is somewhat located amidst the Himalayan and the Karakoram ranges. The town receives fresh snowfall every winter and hence, a visit during the winters can also be an excellent idea indeed.
This article is written in the form of a Pelling travel guide. If you are considering a visit to this wonderful little town in Sikkim, you may benefit tremendously from this article. So let's begin without further ado.
So what's the best time to visit Pelling?
Pelling is an exceptional place to visit almost any time of the year. But if we want to narrow it down to the best times of the season, we would get two standout ones where the beauty goes right off the roofs. So here they are:
· Mid February to June
Pelling enjoys a pleasant weather during this time frame. The skies are usually clear and you might also get a decent view of the mountains quite easily from the very comfort of your hotel drawing room. You can't ask for more; can you?
· September to December
Pelling exhibits exceptionally pleasant weather during this period of the season. If you plan for a visit, this should be the apt time to go.
Note: If you are a snow lover, winter should be the apt time for you.
Best places to visit in Pelling: 5 MUST-SEES
There are many. We are just highlighting a few that you should not miss at any cost. Take a peek.
· Sangachoeling Monastery
This monastery was built in the seventieth century and is considered an important pilgrimage spot for the Buddhists.
A trip to the Sangachoeling Monastery will take you through a dense forest and a rocky terrain. The scenic beautifies are absolutely breathtaking. Do not miss it.
· Singshore Bridge
This bridge is the highest bridge in Sikkim and is also widely regarded to be the second highest bridge in Asia with an elevation of more than 198m above the ground.
With lush green hills and breathtaking scenes all round, this spot should be a must on your "to visit" list. It's also not too far away and is just around 28kms away from Pelling. Go for it with your eyes closed.
· The Rimbi Waterfalls
The Rimbi waterfall is considered one of the most beautiful places to visit in Pelling. The beautiful scenery around the falls will be a definite treat to the eyes; there's simply no doubt about it.
So if you want a picture-perfect photograph, this is your place to go.
The Rimbi Waterfall also provides tourists with options to engage in recreational activities such as fishing and swimming. Give them a go if you are enthusiastic enough. You won't regret it for sure.
Note: The best time to visit the Rimbi falls comes during the summers or the winters. It's advisable to avoid going for the visit especially during the monsoons because of the tremendous rise in current. So keep that in mind while planning for a trip.
Khecheopalri Lake
This is the place where divinity blends with tranquility to provide you with an exceptional experience that you may actually remember for the rest of your life.
The Khecheopalri Lake is considered to be one of the most sacred Buddhist places in Sikkim.
"Wishes come true here"- This is a commonly held belief that's primarily associated with the Khecheopalri Lake. So how can you miss a place like that? It's a must for sure.
The Rabdentse Ruins
The Rabdentse Ruins are a popular destination in Pelling because of the historical importance of the place. The ruins were established in 1670 by Chadok Namgyal. Here's a peek of the place-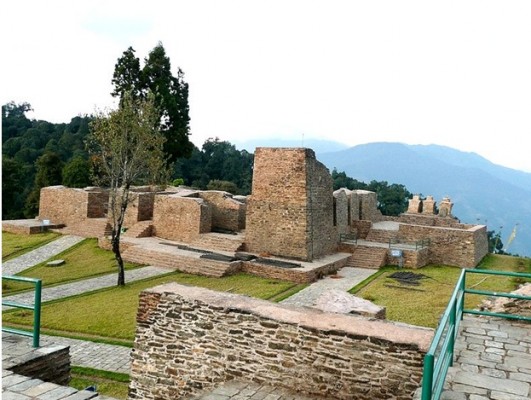 Source- Wiki
Your Pelling visit would be incomplete without a visit of the Rabdentse Ruins. So make sure you don't miss that.
So what are you still waiting for? Book a Pelling Tour Package NOW. This is your chance to make some memories. So get on it without further ado.
Permissions to Republish:
To republish this article, you must include all links, author information (if available) AND the article source link (this page address link/URL).
_______________________________________
Disclaimer:
Articles are provided for informational purposes only.
We do not accept any responsibility or liability for the use or misuse of the article content on this site or reliance by any person on the site's contents.

Share this


Paid Vacation Rental listings start at just $59 / year! & Free Vacation Rental Listings First 5 members of each region - add a completely FREE Vacation Rental Listing to our site! , Free Articles and Blogs Join us to add FREE Vacation Rental articles and Blogs & Referrals Send your extra booking requests to other Vacation Rental owners and make $. !
In addition to vacation rental listings, VR Referrals connects vacation rental owners together in one place.
Additional features are available. Vacation rental owners can create their own Blogs and / or add Articles on our site to further market their vacation rental properties online, free of charge. View Membership Types.